All Jobs
Marketing

Auckland, AUK, NZL

Salary

Full Time
---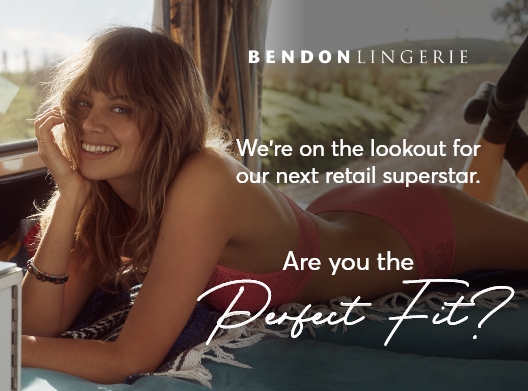 Bendon is a much loved, iconic New Zealand company with a history dating back 75 years. After successfully Brining Bendon Back, we are now ready for our next phase of our transformation, which is an exciting growth journey. We see our immediate growth across ANZ, with a long-term view of going global.
Who we are looking for:
We are looking for an experienced Leader who is excited about coming on our journey of growing this amazing heritage brand by continuing to build our brands, catapulte us into the Australian market, have a passion to build customer acquisition and engagement through an incredible customer experience. Across the digital area, you will develop and execute a digital channel strategy and development as well as customer data and loyalty. Also, you will build strong partnerships with community groups, but most importantly educate all women of the importance around a well fitted BRA.
Our ideal candidate will have an entrepreneurial mindset, that are not afraid to push the boundaries and are excited by the opportunities that expansion will bring. This is a big role, that will require a lot of hard work, but balanced with flexibility and reward.
What we value, is deep level of knowledge across retail marketing and ideally international experience. This role would suit someone with a plan to return to New Zealand after a few successful years abroad or someone looking to emigrate to our beautiful shores.
The GM Marketing and Digital role will report to the CEO and is part of the leadership team.
Who we are:
At Bendon, we truly believe in putting customers first, and that is why the customer is at the core of everything we do. We know that by empowering our team members, we create a culture where we are relentless in the pursuit of our goals, and we all strive to achieve our vision. We believe this ethos will help to ultimately make all women feel confident and comfortable for life.
We're unique in that we design, manufacture and sell our own internationally recognised brands including Bendon, Pleasure State, Fayreform, Lovable, and our new brand me.bybendon.
What you'll do:
Overall, you will provide strategic leadership to the marketing, digital and the customer service teams.
Marketing:
Create and drive a Marketing Strategy that focuses on AU growth, customer acquistion, partnerships and bra education

Drive brand growth with our house of brands by being the brand custodian, building on their positioning and driving increased customer value

Create and build the communications strategy through media, content and execution
Digital:
Create and deliver our digital strategy and roadmap, to deliver a best-of-breed customer experience

Drive customer retention including the design and launch of Bendon's loyalty programme

Build and leverage deep customer insight to ensure business decisions are Customer First

Ownership of the online P&L - delivering positive YOY eBit growth

What we can offer you:
Being part of the Bendon family in a casual and warm environment

Being part of a team who wants to make a difference and EMPOWER women

Competitive salary, flexible working hours and the ability to purchase leave in advance and achieve real work/life balance

Wellness leave and reduced working hours after a qualifying period

Reduced office hours over summer, to enjoy family time

Funded professional development opportunities

Company discount card that offers great discount prices at our stores and online

Ability to join Bendon's corporate mobile phone plan

Career development opportunities

Free on-site parking
If you are passionate about retail and people, love lingerie, want to work for an international company and this sounds like an opportunity you'd like to explore further, then we'd love to hear from you. Apply online now.