All Jobs
Concession

WA, AUS

Hourly

Full time and part time
---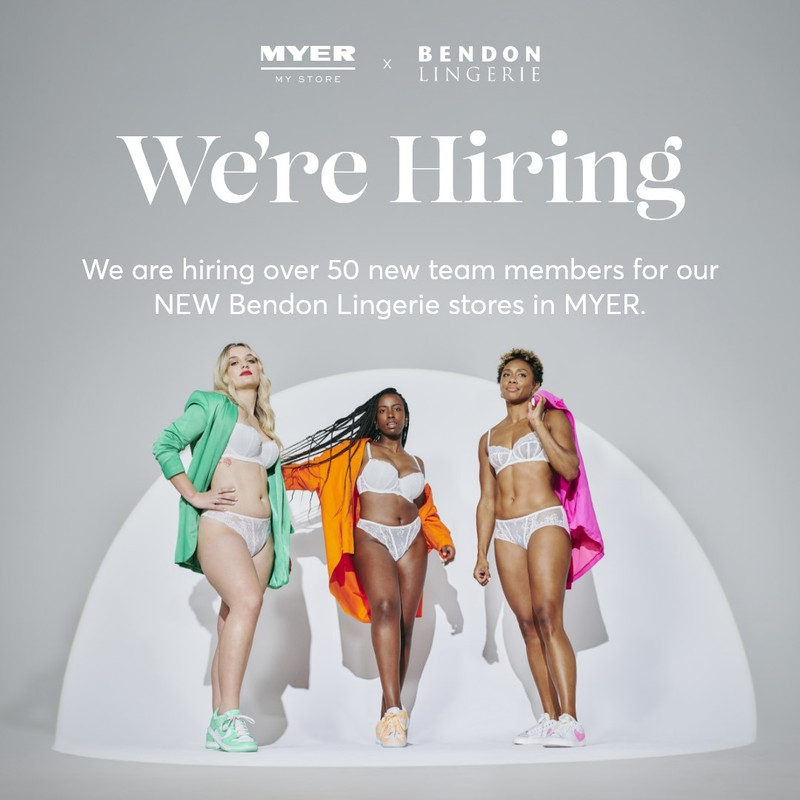 Bendon Lingerie is partnering with MYER by launching 25 concession stores within MYER from mid-September this year.
We are still on the hunt for more retail superstars to join us in our Myer stores in Australia.
This exciting opportunity is leading our search for team members in Myer Karrinyup, Myer Morley, and Myer Garden City. We are looking for the following positions:
Myer Karrinyup: 1 Full Time team member
Myer Morley: 2 Full Time team members
Myer Garden City: 2 Full Time team and 1 Part Time team members
Bendon is a much loved iconic New Zealand company with a history dating back 75 years. Our focus for the next phase of our transformation is expanding our footprint and investing further in eCommerce. We see our immediate growth across ANZ, with a long term view of going global.
Who we are looking for:
We are looking for passionate, driven and customer focused team members who are excited about coming on our journey of growing this amazing heritage brand in an amazing retailer. To serve our customers well, you need the ability to build trust, be compassionate and encouraging, but most importantly interested in becoming a fully certified Bra Consultant. Being able to educate our customers on the importance of a well fitted bra is critical to our success.
What we value more than anything is having a great attitude, and wanting to provide an excellent customer service experience.
Who we are:
At Bendon, we truly believe in putting customers first, and that is why the customer is at the core of everything we do. We know that by empowering our team members, we create a culture where we are relentless in the pursuit of our goals, and we all strive to achieve our vision. We believe this ethos will help to ultimately make all women feel confident and comfortable for life.
We're unique in that we design, manufacture and sell our own internationally recognised brands including Bendon, Pleasure State, Fayreform, Lovable, and our new brand me.bybendon.
What we can offer you:
An opportunity to develop and grow with our comprehensive internal learning framework

You will be awarded with a Bendon 'BRA FIT' Specialist certificate and Customer Service and Sales Training Certificate after 3 months of comprehensive training programme

The ability to purchase leave in advance and achieve real work/life balance

Wellness leave

Being part of the Bendon family in a casual and warm environment

Being part of a team that wants to make a difference and EMPOWER women

Great discounts at Myer, our stores and online